Permanents
Permaswage has designed and manufactured innovative products for over five decades for world aircraft manufacturers.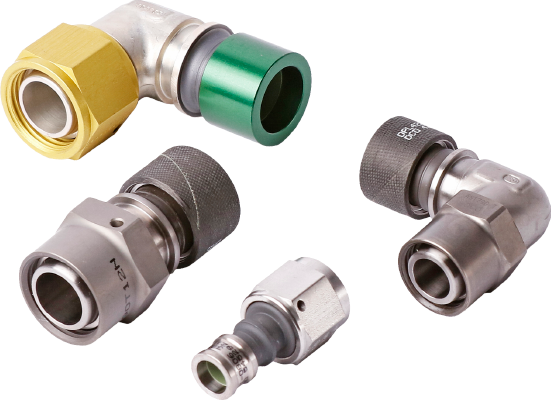 Permaswage System
Permaswage System Fittings are radial compressed (mechanically attached) onto compatible tubing to provide a permanent joint with metal to metal sealing.
The fitting to tube relationship is affected by differential springback caused by the annealed condition of the connector, relative to the tubing. Fittings contain one (stainless/titanium) or two (aluminum) silicone seals which seals potential leak paths with tube surface defects.
Lower weight, minimum envelope, high fatigue strength and cost-effective performance benefits for superior tube connections.
Installation tool converts linear force into radial swaging force, resulting in compression of the fitting and tube.
Fast, reliable repair and production of aircraft hydraulic, fuel, pneumatic and ECS tubing lines.
Provides optimum flexure performance.
Controlled dimensions with wide tube insertion tolerance to compensate for structural tolerance build up.
Leakproof joints for the lifetime of the aircraft.
Simple inspection.
Simple tube preparation.
Comes in all configurations including, but not limited to, straights, elbows, tees, crosses, reducers, flanges, and more.
Permanent connections can interface with lipseal, flareless and flared couplings
Available in corrosion resistant steel, aluminum and titanium materials.
Design features allow for simple, one-hand operation.
Lightweight and portable.
Allows for use in tight tube clusters.
Rapid "in situ" and "on the bench" installation.
Repeatable, consistent process.
Tool kits are available in a variety of sizes and in a variety of size combinations
Tooling training in-the-field is available.
Tool maintenance program is available to service tooling.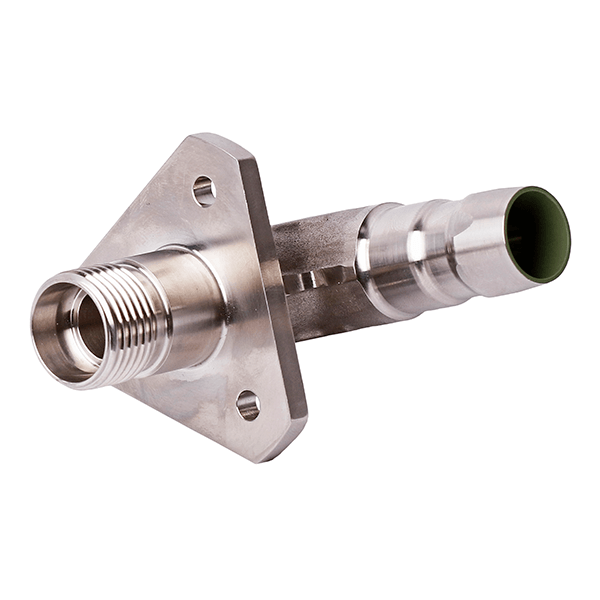 Permalite / AS Systems
Permalite/AS Systems are available in titanium, aluminum, and stainless steel materials in a variety of standard and unique configurations.
Installation tool facilitates the movement of axial swage ring which provides the swage force needed to compress fitting and tube, resulting in leak free, metal to metal connections.
Composite carbon fiber / epoxy rings are assembled to, and back up a thin high strength titanium alloy sleeve.
Axially swaged permanent fittings.
Reduced-stress installation using in situ swaging.
Simple installation.
Simple inspection.
Low weight, reduced-envelope fittings.
Wide tube insertion tolerance.
Available in titanium, aluminum, and stainless steel.
Wide variety of standard and unique configurations.
Can interface with lipseal, flareless and flared couplings.
Provides 180º access to tubing for tight cluster.
One Universal Tool Kit makes both titanium and stainless steel fitting connections.
Can be used for both production and repair fittings.
Features extension hose with swivel joint for flexible installation angles.
For a list of available tooling and kits, visit Axial Swage DAT.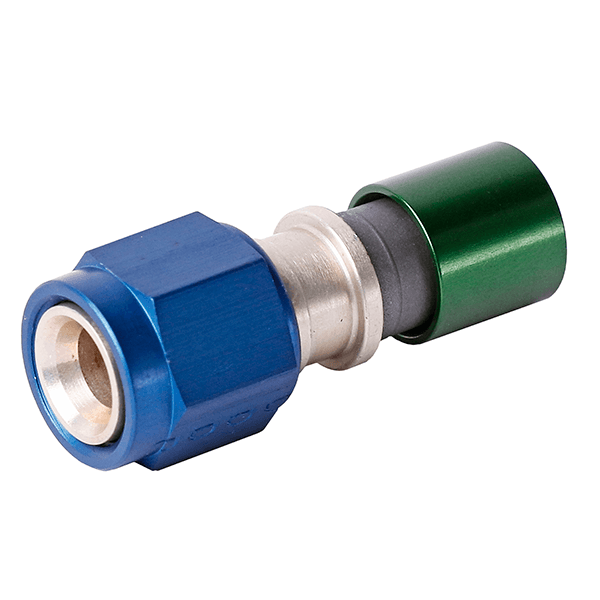 Highly Resistive Union (HRU)
Highly Resistive Union (HRU) Insulative Fitting provides insulation resistance to lightning strike and control of electrostatic buildup.
Conforms to OEM requirements in providing insulation resistance to lightning strike and control of electrostatic buildup.
For applications up to 5,080 psi in union or bulkhead configurations.
Has integrally attached fitting ends available in multiple materials (aluminum, stainless steel, & titanium).
Reduced fitting weight, better fit or handling for application.
Allows installation directly to tubing without adapters or modifications.
Allows selection of desired tube alloy to ensure galvanic compatibility.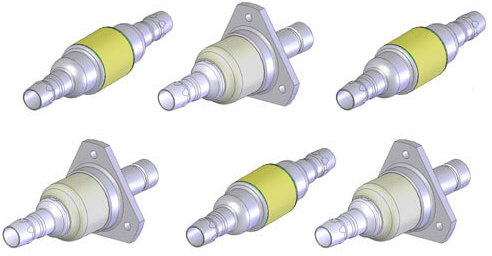 Miniature Series
The DME fitting concept offers the most compact and cost effective competitive weight end fitting approach available.
Offers most compact and cost effective competitive lightweight end fitting system available.
Simple, fast and cost effective installation and inspection method.
Axial Swage with separable ends using flareless female sleeves.
External swaging with the same tube insertion every time.
Uses shortest straight length to bend radius.
Stainless steel sleeves.
Lighter and shorter than conventional flareless sleeves, internal swage, or cryogenic.
Same sleeve used on aluminum, stainless steel and titanium tubing.
Used with AS1792, AS21921 or specific nuts.
Interchangeable with MS21922 & NAS1760.
Compatible With MS33514 & MS33515 Male Flareless Fittings.
Replaces internal roller-swaged, welded and cryogenic sleeves.
No need for X-ray inspections or internal gaging before installation.
Small, robust simple operation DET swaging tools.
Single stroke operation.
Limited maintenance, minimum number of components subject to wear.
Inexpensive compared to welding machines or internally swaged machines.
For a listing of available tooling and kits, visit Radial Swage DLT/DET.